» Catalog » En Monochrome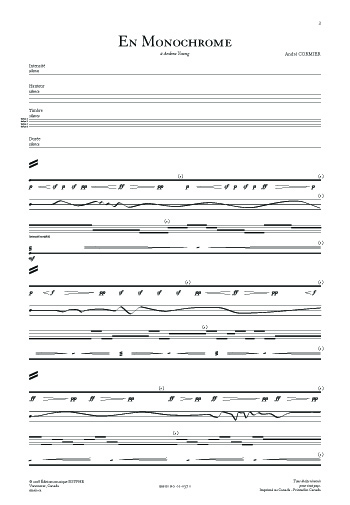 En Monochrome was premiered in Victoria, BC by Andrea Young in February 2009, with a subsequent performance by musica intima at Vancouver Sonic Boom 2009 and a infinatly interesting version done with electronics by Vancouver composer John Baker.
Music Information
Work Number
emsis 01-037 s
Description
En Monochrome pulls apart and isolates various musical parameters, which most often, we hear together, thus trying to dodge the usual symbiosis that exists within musical events. In En Monochrome, dynamics, timbre, pitch and duration are expressed independently of each other by different performers. The piece is performed on a singular pitch in unison; however each performer will be interpreting this note with only one of the parameters mentioned.
Score
| | |
| --- | --- |
| Price | $16 |
| Dimensions | 9x12 -- 8 pages |