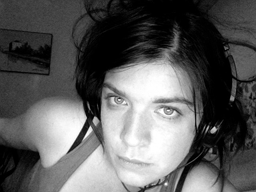 Andrea YOUNG
02
Andrea Young is a vocal performer of contemporary concert music, and a composer of acoustic and electroacoustic music.
In 2001 Andrea Young completed an Undergraduate Degree in both Vocal Performance and Composition from the University of Victoria, BC, Canada. Voice and composition teachers include Susan Young, Christopher Butterfield, and John Celona.
Long Term Residencies at the Banff Center of the Arts in 2003 and 2004 led to the creation and performance of Azari-Cortège, for orchestra and santur. Performances of this work were conducted by Vancouver Symphony Orchestra conductor Bramwell Tovey, and the previous Calgary Philharmonic Orchestra conductor Rosemary Thomson.
Andrea Young completed a Masters Degree in Sonology from The Royal Conservatory, The Hague, Netherlands in 2007 with teachers Paul Berg and Kees Tazelaar. Pink Noise by composer Hector Bravo Benard was performed at the Muziekgebouw aan 'T IJ, Amsterdam, Netherlands, and her electroacoustic composition 'T Tinjk 2007 was performed at the ZKM Center for Art and Media, Karlsruhe, Germany.
Returning to Canada in 2007 led to a Canada Council Grant for the creation of VOICE/wire : 1, a collection of new works for voice and electronics. The resulting performance was given in Victoria in February 2009. Recently, she has participated in the Composers Kitchen with Quatuor Bozzini, Montréal, and presented two new works for Brief Encounters with the Tomorrow Collective in Vancouver BC. Andrea Young is currently preparing several upcoming concerts for Brooklyn NYC, Vancouver BC, and Moncton NB. Andrea Young continues her ongoing VOICE/wire series, collecting and creating new works for voice and electronics.