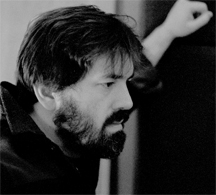 Devin MAXWELL
05
Devin Maxwell holds a BMA in percussion performance from the
Cincinnati College-Conservatory of Music and an MFA in composition and
performance from the California Institute for the Arts. His orchestral
composition "PH1" was released in 2008 by ERM Media and his
composition for chamber ensemble "Untitled 17" paired with public
domain videos won the award for Best Experimental Film in the New York
Independent Film Festival in 2004. As a percussionist he is know for
his interpretations of the music of John Cage, Christian Wolff, and
Morton Feldman. He has performed with the Code Ensemble, So
Percussion, Ethos Percussion, the OXO Ensemble, Dither Quartet, and
many other chamber groups and orchestras. He has worked with recording
artists on Mode, Parlaphone, 4AD, Fat Possum, Kemado Records and
Social Registry as a performer, producer, and arranger, and composed
music for Atlantic Records, Disney, Nascar, Ford, THQ, and HBO. His
chamber music has been featured at Columbia University, the University
of Utah, at Dartmouth University, Kenyon College, The Brooklyn Lyceum,
Monkeytown, the Ontologica-Hysteric Theater, the Stone, and the Wulf
and he has collaborated with choreographer Jessica Gaynor and worked
with filmmaker Rollin Hunt. He is currently playing drums, making
records, and touring with Lady Lucille and Anni Rossi and occasionally
produces concerts and recordings in his venue Listen/Space.